WELCOME TO THE BACKSTAGE PASS!
Your participation/cooperation is one of the most important aspects to achieving an excellent orthodontic result. To recognize and reward your hard work and personal success, we have created the Backstage Pass! You can start earning points right away for being a great patient and partner in treatment, seeing your dentist, referring friends, wearing your Bronsky or TriBeCa Orthodontics t-shirt, and much more!
To check or redeem your points, click the Backstage Pass below: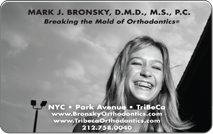 You can find you login and password information on the back of your Backstage Pass.